How's Your Broadband?
Slow?

Inconsistent?

Unreliable?

Frustrating?
A slow broadband connection can make life difficult – and it's especially frustrating when you're paying for a service that cannot be delivered, despite what most would promise you. That's why we've partnered with Boundless Networks to deliver ultrafast broadband to even the most remote areas.
Who are Boundless Networks?
Boundless is different. They offer home wireless broadband 30-100 Mbps, no landline required. Choose a different kind of broadband for your home which is up to 100 Mbps, low cost, robust and secure. Prices starts from just £29.99 per month inc VAT.
Their national private network is built to deliver high quality internet access where others fail. Using underground fibre optic cable and over-the-air cutting-edge microwave technology, it can deliver superfast or ultrafast internet access in even the most remote or rural locations. Boundless specialises in the design, delivery and maintenance of quality broadband solutions for homes, utilising full fibre and hybrid technologies to ensure up to Gigabit-capable broadband.
How Do They Do It?
Boundless operate an independent fibre-backed microwave network. This is not a satellite delivered service but one that uses a series of ground-based transmitters to deliver the signal directly to your house or business.
A small antenna is mounted on the outside of the property aimed at one of our transmitters. As it usez a microwave delivery system it does require a clear line of sight between this receiving antenna and the nearest transmitter mast. Once the antenna has been installed and has been cabled into the property, we fit a Wi-Fi router that is used to connect your PCs and other internet-enabled devices. Being completely independent from the 'copper wire' infrastructure used by normal broadband providers means that Boundless customers are not impacted by the distance to the local exchange or if a cable in the ground is accidentally cut. It is important to note that even when an area is claimed to be 'fibre enabled', all this really means is that the Openreach green street cabinet is fibre connected. However, the connection from that cabinet to your property is still connected by copper, which severely reduces the speeds over any distance from that cabinet. As Boundless does not use this infrastructure it doesn't suffer from this problem, which means it can often provide a faster service even to areas that are 'fibre enabled'.
Better Speed Over Distance with Boundless Networks
Wireless broadband from Boundless Networks is different; it delivers far better speeds over distance than FTTC (Fibre to the cabinet) fibre broadband.
It's a well-known fact that the further your home is located from the closest street-side fibre cabinet, the slower your broadband service becomes; the drop-off in service is significant over the old copper telephone line from the roadside cabinet to your home. In stark contrast, a Boundless wireless connection retains its full speed up to 5km from our base station to your home.
Here's a broadband line speed over distance comparison between a Boundless wireless connection and that delivered by FTTC fibre broadband to your home. Please note this is chart assumes ideal conditions for both wireless and fibre; actual results may vary for both.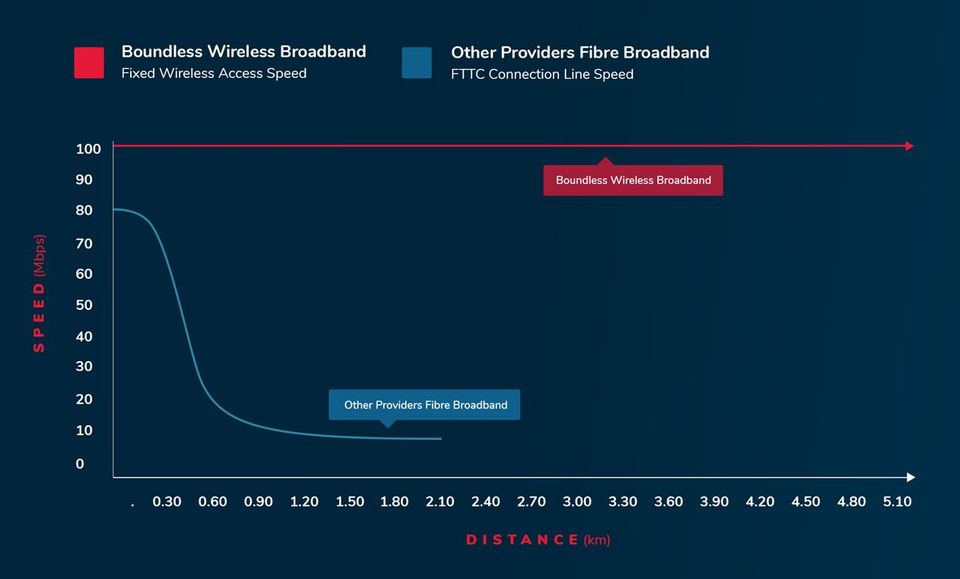 Does It Really Work?
Tiny Hamlet Ecstatic
14th October, 2017
After struggling with a connection that barely allowed them to receive emails, homeowners in Slippery Ford, near Oakworth, can now stream any digital content. 'Thanks to Pennine Plus and Boundless Networks, we now have wireless broadband and no longer feel isolated.' said Alison Porter, a resident of Slippery Ford. Pennine Plus were a prime contractor for the installations in the area and for their knowledge of the community. They have been a key pillar in instigating the project. Pennine's managing director, Geoff Higgins, said: 'It's an incredible feeling to be a part of something such as this – to be able to provide these people with what is nowadays considered a basic necessity of modern day life, broadband.'
Where Do I Sign Up?
Registering on our webform isn't a contractual agreement, it's simply to register your interest for the services that Boundless Networks can offer you, and if you're able to receive their services, then you can proceed with the sign-up process, if not, then you can choose to ignore it.
Should you have any questions, or concerns, please do not hesitate to get in touch with us, we're here to help.